Do you know where to find affordable veterinary care? According to the Ontario Veterinary Medical Association, some of the most reasonably priced veterinary services are available in the US, with Texas being a prime location. After conducting extensive research on Low Cost Vets in Austin Tx, I have identified the top 6 clinics that offer both affordability and quality care.
These establishments are a boon for pet owners in Austin, ensuring that their furry friends receive top-notch medical attention without breaking the bank. If you're on the hunt for low cost vets in Austin Tx, you're in the right place.
Let's explore each veterinarian in detail, including their pricing, the doctors on staff, and client reviews.
1. Emancipet Austin Tx
Address: 7201 Levander Loop Buildings I & K, Austin, Tx          Phone: +1 512-587-7729
The first affordable vets in Austin tx, I would wholeheartedly recommend is Emancipet. It has multiple branches in Texas like in Killeen and Houston Tx. With a longstanding commitment since 1999 to affordable and accessible veterinary care, their services have impacted countless pets.
Dr. Evelyn MacKay, the lead Veterinarian at Emancipet Houston Northwest Freeway, ensures top-tier care at remarkable prices, like the $89 spay and neuter surgeries or the essential vaccines at just $15. Their no-appointment approach for Healthy Pet Services, coupled with a comprehensive range of medications and additional services, makes them a standout choice. Numerous clients prefer Emancipet as the best place to save your dog's life. 
Website: emancipet.org
Services/Amenities/Features
Spay/Neuter Surgery for Pets
Dewormer for Dogs & Cats
Vaccines/Shots for Dogs and Cats
Feline Leukemia & Feline Immunodeficiency Testing for Cats
Flea and Tick Prevention
Heartworm Prevention
Soft Tissue Surgery for Dogs & Cats
Identification for Dogs and cats like Microchip
Toenail Trim & Anal Gland Expression.
2. ATX Animal Clinic
Address: 8033 Mesa Dr, Austin, Tx          Phone: +1 512-338-4300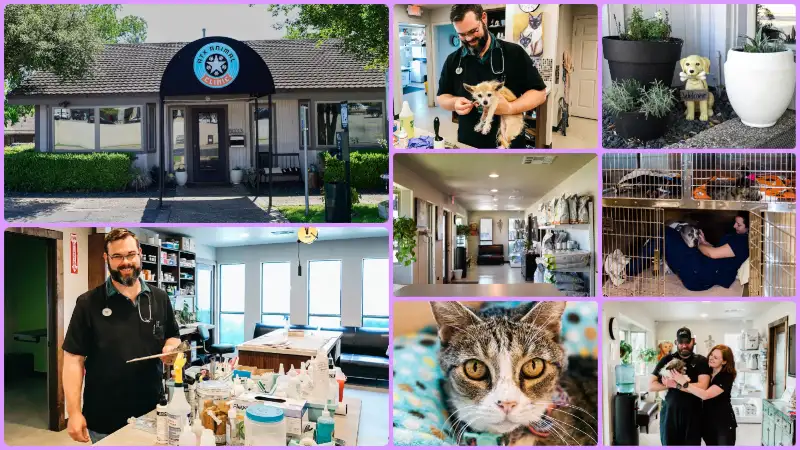 Another shoutout to ATX Animal Clinic, a fantastic place for low cost emergency vet Austin. Dr. Robert Pieratt and his team, especially Dr. Theresa Hardy, are amazing. They provide excellent medical care and emotional support for your pet. They have top-notch diagnostic tools and technology, and the prices are reasonable.
Dr. Steve Harris started this legacy, and Dr. Rob is excellently carrying it forward. Plus, they have a fun tradition of giving treats to pets on Fridays. I highly recommend them to all pet owners.
Website: atxanimalclinic.com
Services/Amenities/Features
Vaccines & Preventatives.
Wellness Exams for your furry friend.
Canine/Feline Surgery & Dentistry.
Allergy & Dermatology.
Internal Medicine.
Microchipping.
3. South Austin Pet Clinic
Address: 1901 W William Cannon Dr #153, Austin, Tx           Phone: +1 512-441-5900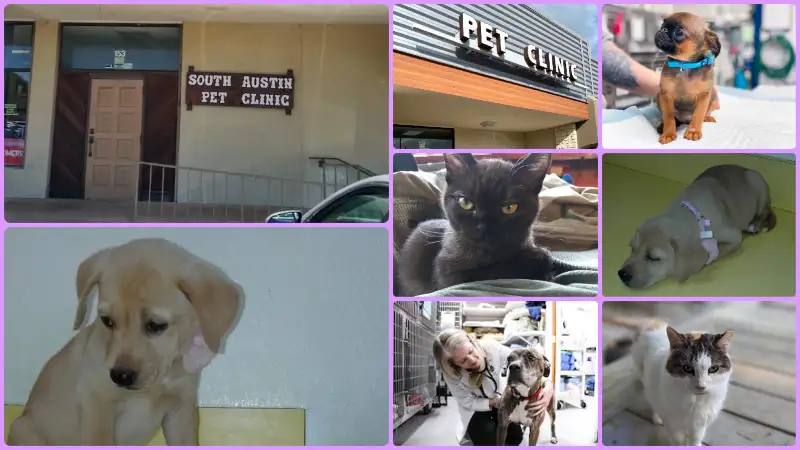 The third vet I recommend is South Austin Pet Clinic. If you're seeking affordable and reliable care in Austin, look no further than Dr. Roy N. Jones. With thirty-four years of experience at the same location, Dr. Jones is deeply committed to offering compassionate care and promoting lifelong health for pets. Situated conveniently at Manchaca Rd. and William Cannon Dr., the clinic might have an old-fashioned touch, but that adds to its charm.
As a customer, I appreciated the swift service. I was in and out in just 10 minutes for a heartworm medication and dewormer visit, and there was absolutely no unnecessary upselling. In a city where finding a trustworthy and cheap vet in Austin can be challenging, Dr. Jones stands out for his expertise and genuine care for animals and their owners. Highly recommended!
Website: southaustinpetclinic.com
Services/Amenities/Features
Diagnostic and Therapeutic Services
Canine and Feline Wellness Programs
Dental Services (teeth cleaning and polishing)
Surgical Services
Anesthesia
Internal Medicine Consults
Permanent Identification (microchip)
Physical & Online Pharmacy
4. AM/PM Animal Hospital
Address: 2239 S Lamar Blvd, Austin, Tx          Phone: +1 512-448-2676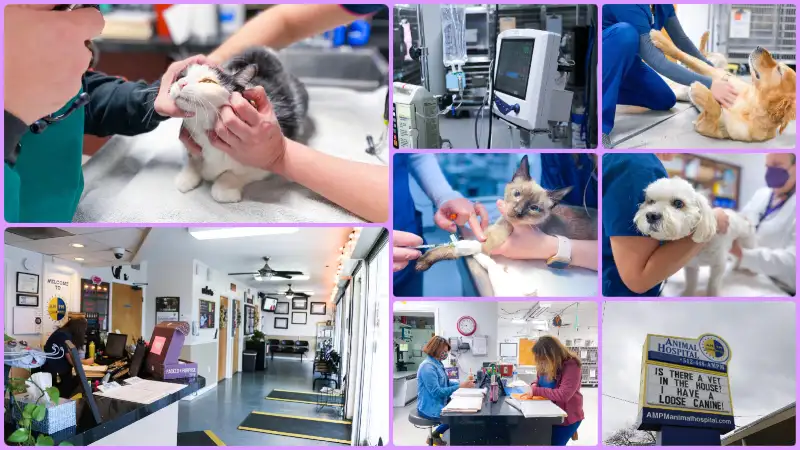 The next low-cost vet on our list is AM/PM Animal Hospital in Austin. They pride themselves on offering high-quality veterinary services at affordable rates, making them a top choice for affordable pet care in Austin. However, my personal experience was mixed. While their diagnostic services are commendable, their pricing isn't transparent.
After a supposedly free visit, I was blindsided with unexpected charges. Dr. Leane Parker, while skilled, missed diagnosing an upper respiratory infection in my kitten. Their staff's professionalism is questionable, and their policies on payment plans left me disheartened. Approach with caution.
Website: ampmanimalhospital.com
Services/Amenities/Features
Full Service Vet Clinic Austin
Preventative & Diagnostic Care
Surgical Services
Dental Services
Puppy & Kitten Care
Senior Pet Care
5. Century Animal Hospital Austin Tx
Address: 801 E William Cannon Dr #220, Austin, Tx          Phone: +1 512-442-9518
Century Animal Hospital in Austin epitomizes genuine care for our furry friends. Led by Dr. Cristina Carballo and the remarkable Dr. Kim Glowski, clients consistently praise the detailed and compassionate care their fur pets receive. Dr. Glowski, in particular, stands out for her thorough approach, always explaining every procedure in detail.
Balancing quality with affordability, this clinic showcases that affordable vet in Austin, TX, don't compromise on excellence. For anyone in search of affordable vet care in Austin, this is the place to go. A top recommendation by the clients.
Website: centuryanimalhospital.com
Services/Amenities/Features
Wellness & Preventive Care includes Dentistry, Diet and nutrition, Vaccinations

Parasite Control (Fleas, Ticks & Heartworms).

Microchipping, Diagnostic Services, Radiography, and Laboratory.

Allergies.

Surgery Services include Spay and neuter, Soft Tissue Surgery, and Orthopedic Surgery.

Travel Certificates Services and End of Life Care.

Client resources and pet records available.
6. Bluebonnet Riverside Veterinary Clinic
Address: 2400 E Oltorf St #10A, Austin, Tx            Phone: +1 512-444-3111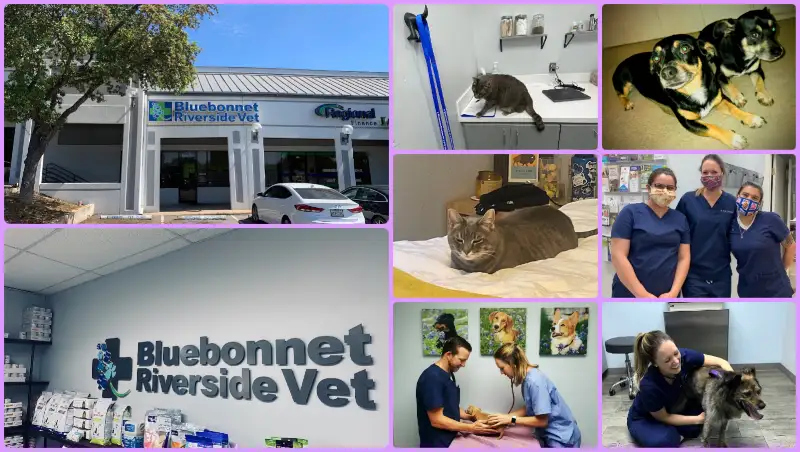 The last vet I mention is Bluebonnet Animal Hospital, and it's truly a standout. With the expert guidance of Dr. Melissa Barrow, Dr. Kabita Deka, and Dr. Kelly Hopkins, every pet is treated with unparalleled care. The whole team is dedicated knowledgeable, and their warmth is genuine. While there's a $100 new patient fee, it's a small price for the exceptional value they provide. For those in Austin, this is the place to ensure your furbabies receive the best care.
Website: bluebonnetah.com
Services/Amenities/Features
Annual wellness exams like standard physical exams and blood or other tests

Spays/neuters, mass removals, orthopedic, and many other surgeries in-house.

General anesthesia or sedation includes (dental services, surgical procedures, and medical diagnostics).

Dentistry includes teeth cleaning and polishing, minor oral surgery, dental X-rays, and tooth extractions.

Ultrasound, Echocardiography, and Microchipping.

Nutrition and Behavioral Counseling

Health care certificates

In-house pharmacy and Emergency care for pets. 
Conclusion
In summary, finding a low cost vet in Austin, Tx, doesn't mean compromising the quality of care your pet receives. From Emancipet's decades-long dedication to ATX Animal Clinic's compassionate approach and South Austin Pet Clinic's old-school charm, there's an affordable option for every pet parent in Austin.
This list covers you whether you prioritize experience, transparency, or genuine warmth. These clinics are your go-to choices for all Austin pet owners seeking value without compromising care. Remember, these low cost vets in Austin Tx, combine affordability and top-notch service seamlessly.